Rise and Fall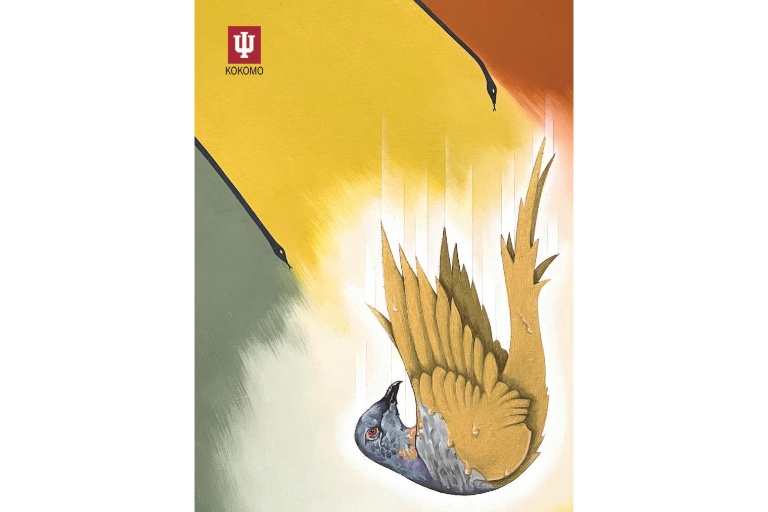 October 2023
Artwork was on display by our NMAT faculty member, Michael Koerner that he created while on sabbatical.
Time Constraint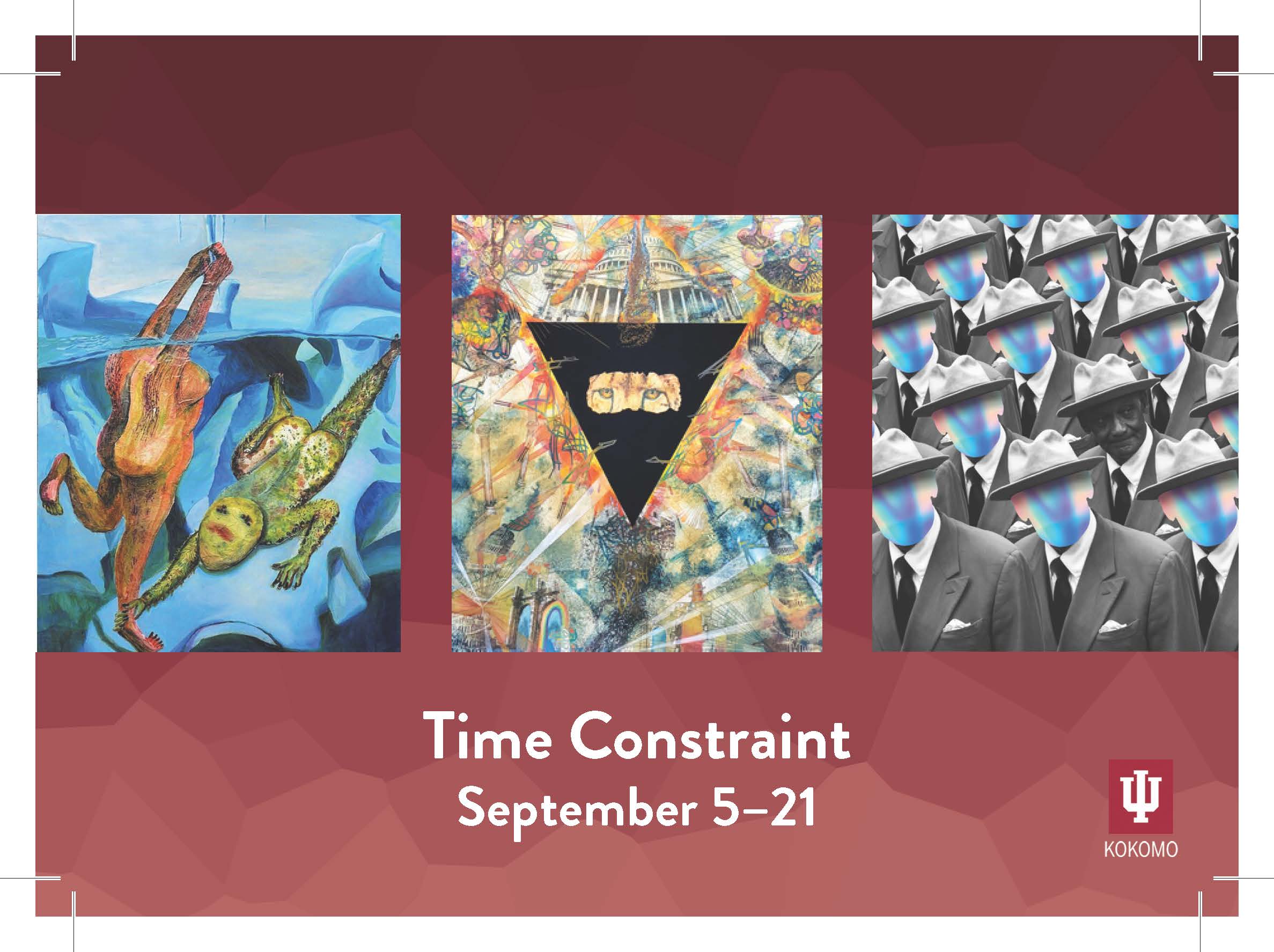 September 2023
The concept of time is all around us. Artwork was on display showcasing various ways that the artists from across the U.S. were inspired by the theme of time.
Alumni Exhibition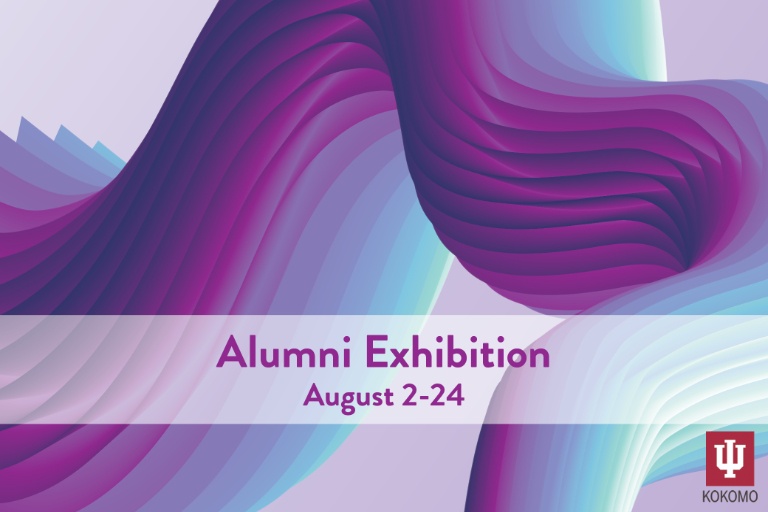 August 2023
9 alumni from the art program participated in this years alumni exhibition. Artwork of various media including; drawing, painting, printmaking, mixed media, digital art, jewelry, and sculpture were all on display.
Small Works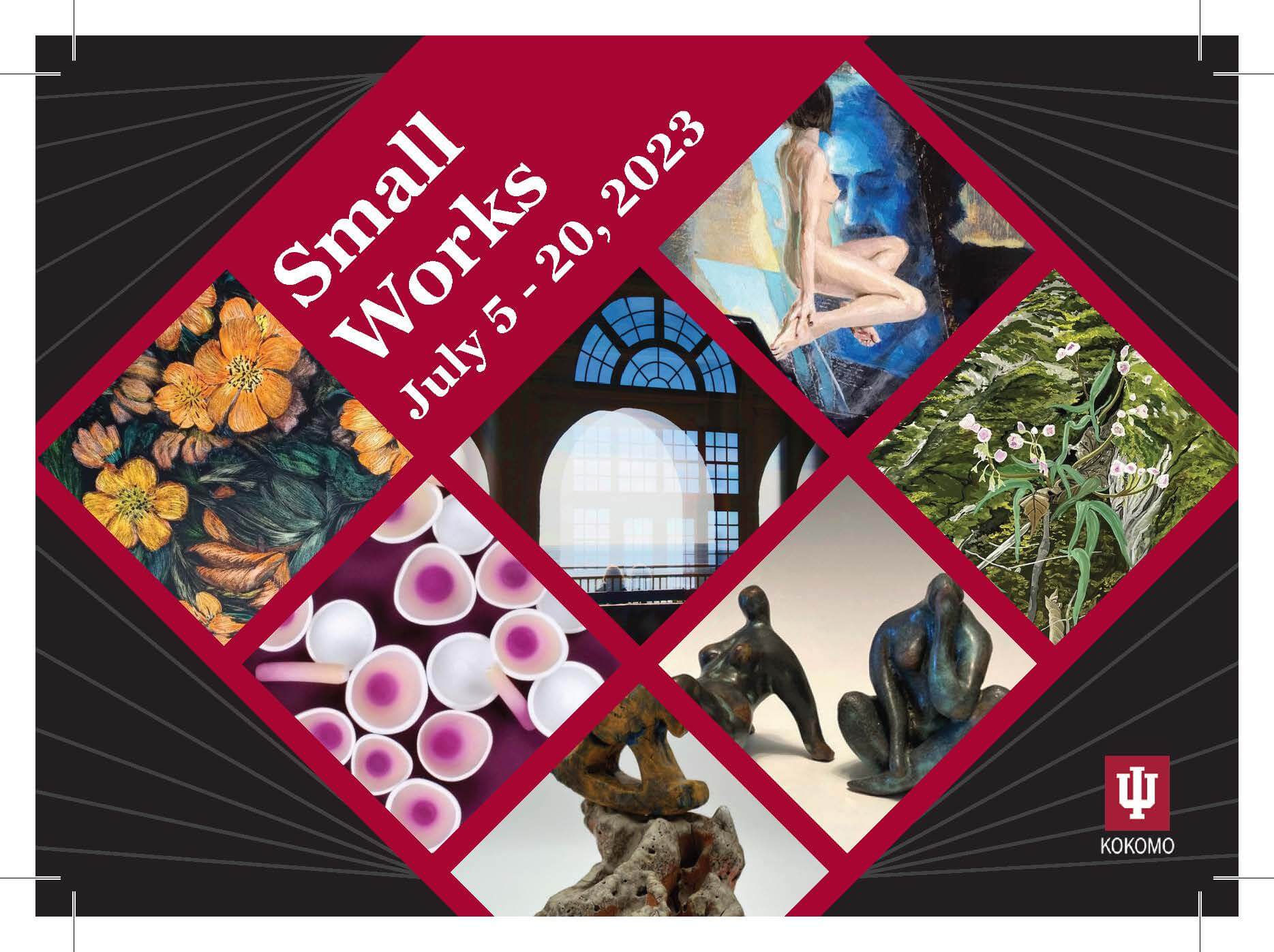 July 2023
Artwork was on display that measured 12 inches or smaller in any direction from artists all across the U.S.
Plein Air Exhibition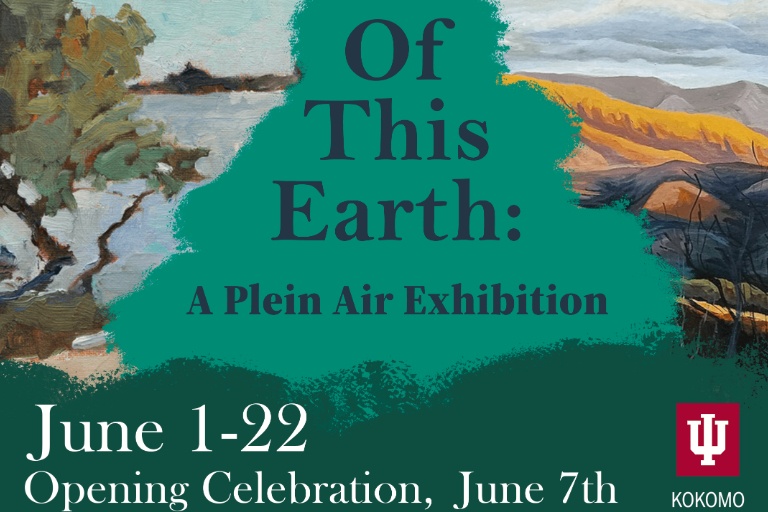 June 2023
Plein Air work from artists across the U.S. was on display, being paired nicely with local plein air paintings creating during our Outdoor Art For All Competition that took place downtown Kokomo on June's First Friday.
Senior Thesis Exhibition
April, May 2023
Work was on display from seven Indiana high schools for our 25th Annual High School Exhibition.
25th Annual High School Exhibition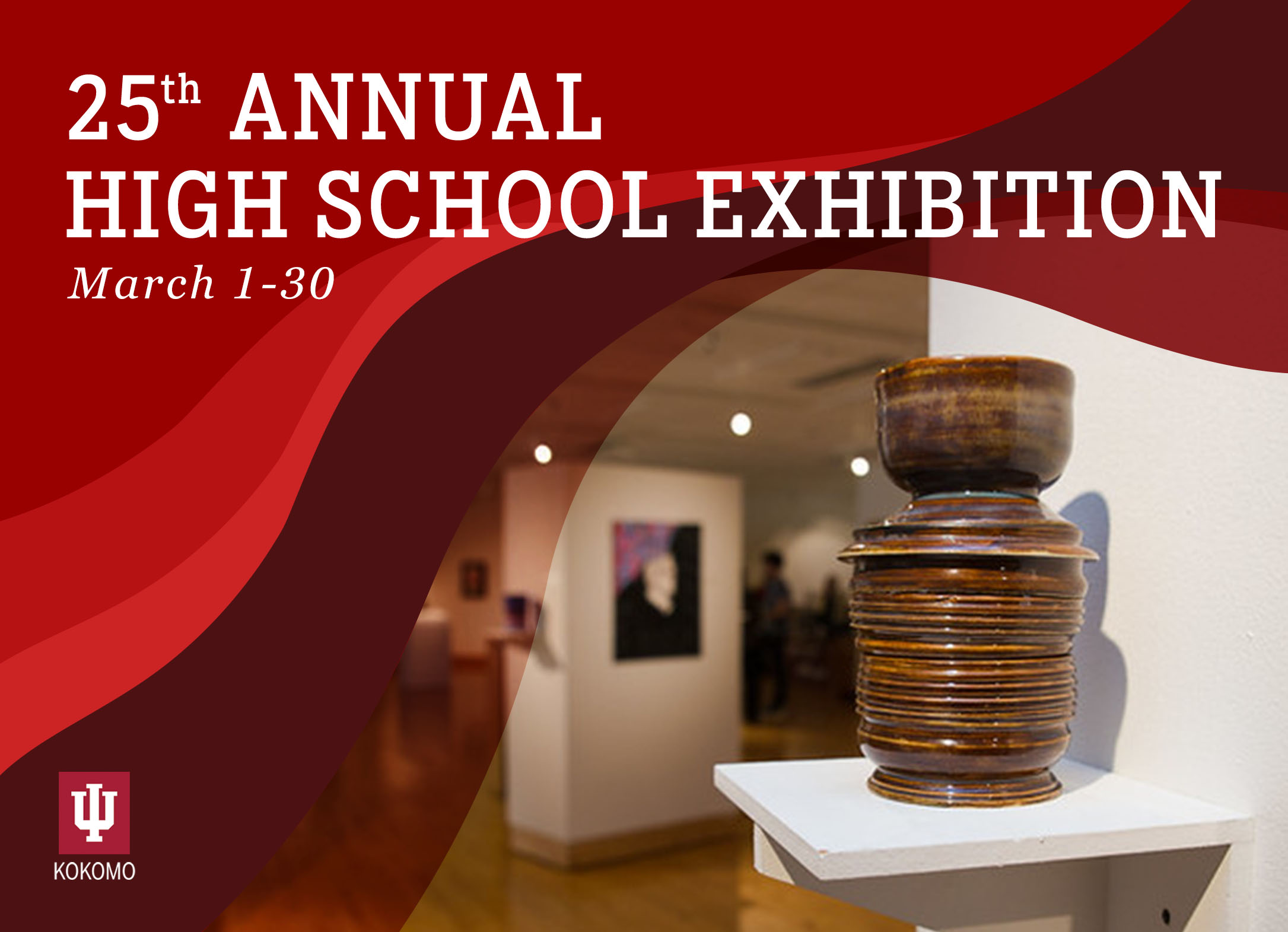 March 2023
Work was on display from 7 Indiana high schools for our 25th Annual High School Exhibition.
Student Exhibition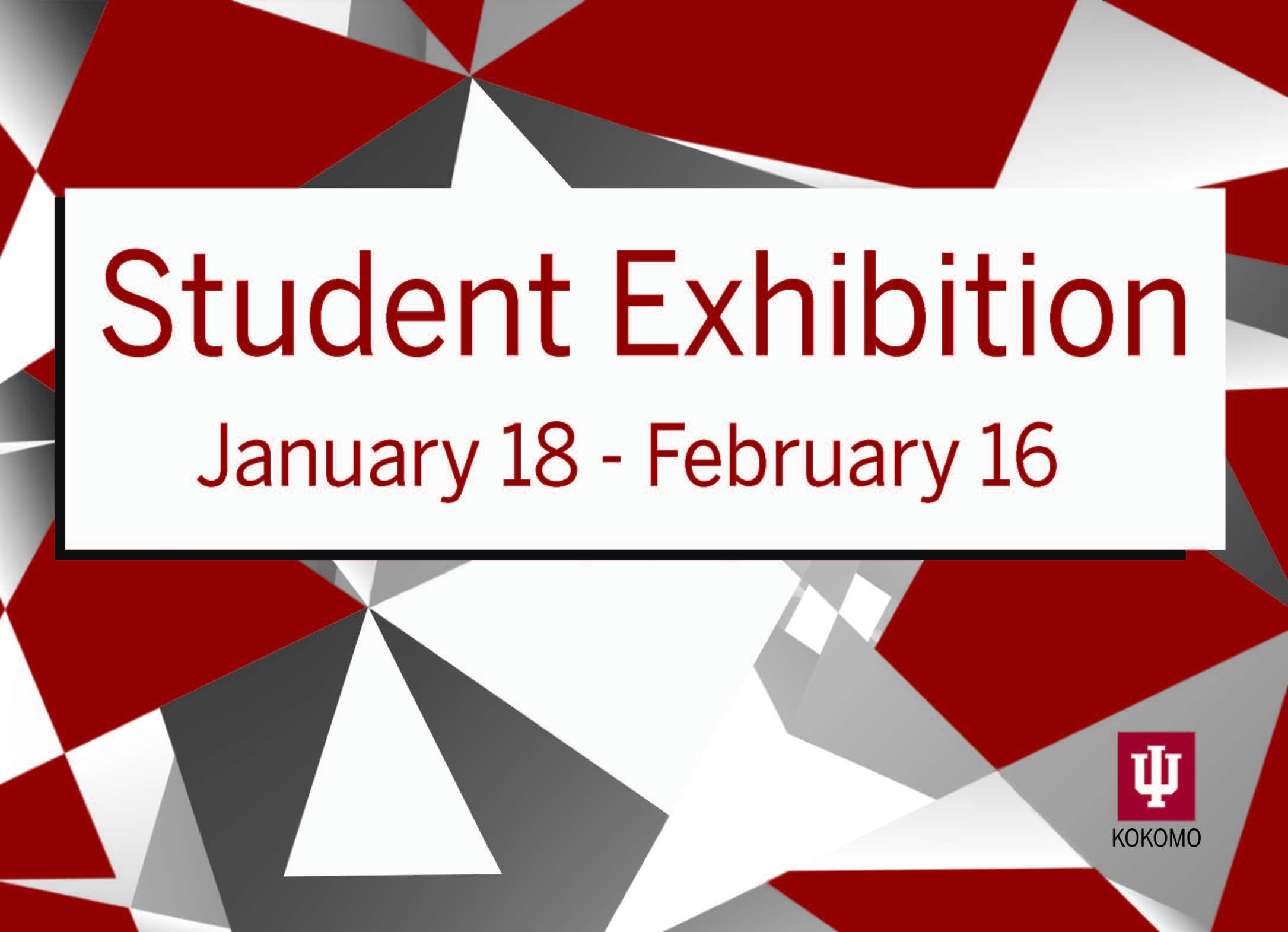 January, February 2023
Our annual student exhibition showcases work by IU Kokomo art students utilizing a variety of different mediums including; painting, sculpture, drawing, digital, and more.
Drawn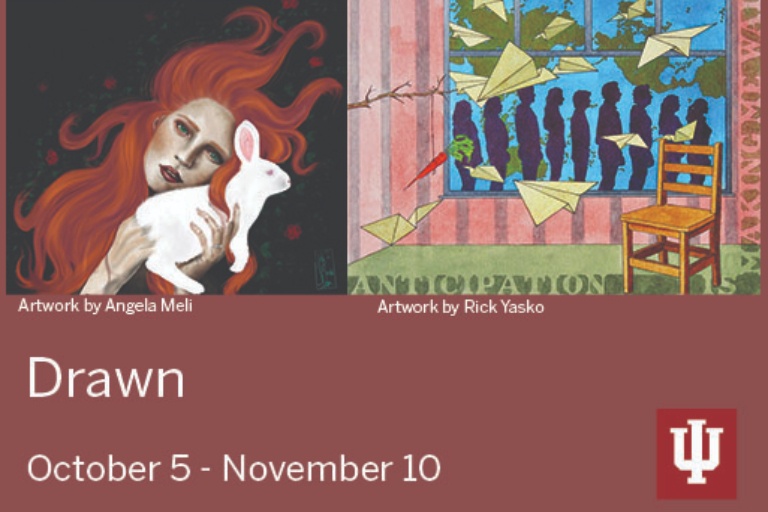 October, November 2022
Drawn showcased a wide variety of drawings from artists all over the United States.
Split P Paintings by Aaron Pickens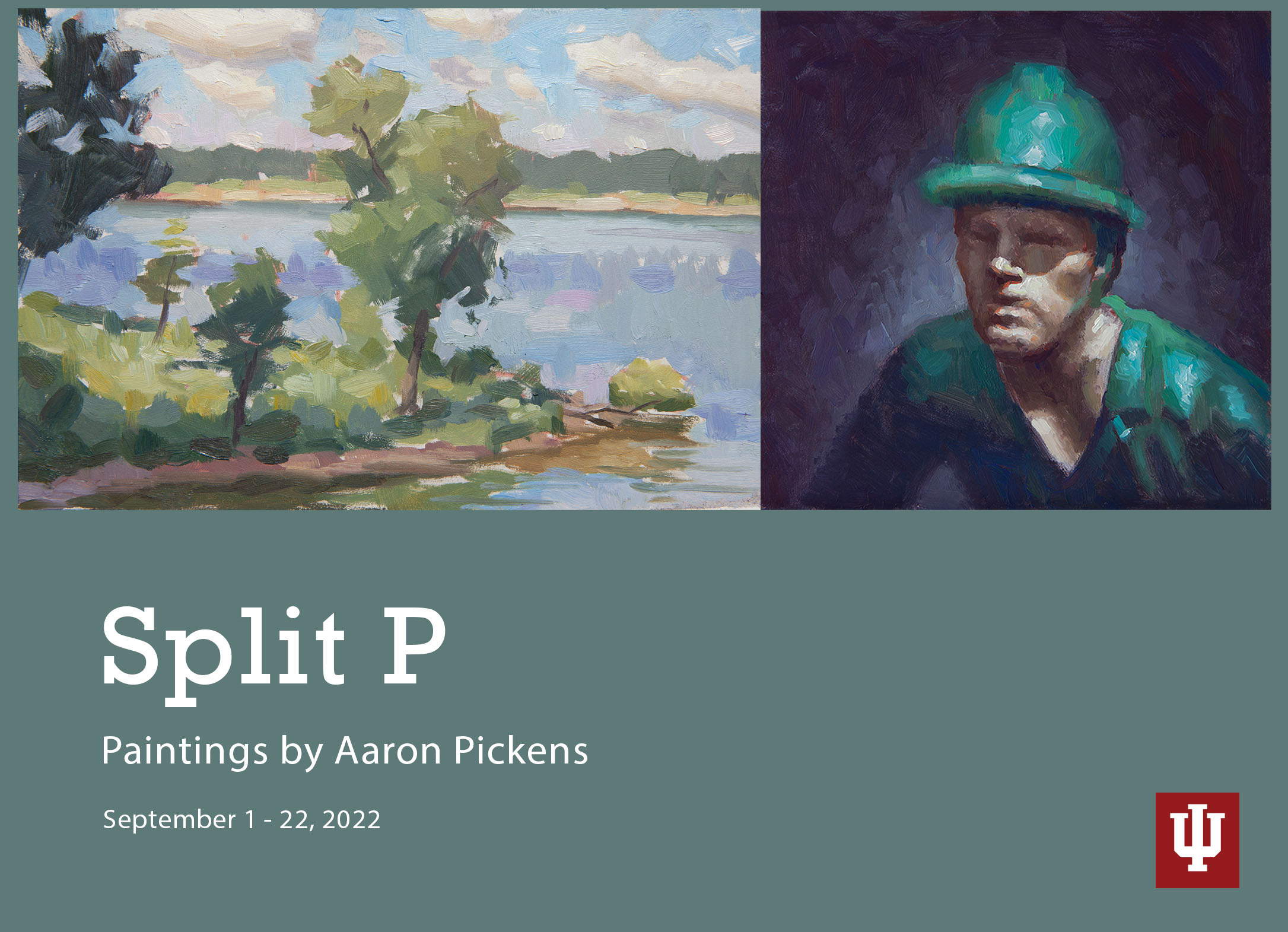 September 2022
Split P showcased work by NMAT faculty member Aaron Pickens. This exhibition contained two separate bodies of work that were created over the past three years: a collection of single-session landscape paintings, and a series of self-reflective toy tableaux paintings.
Photography Exhibition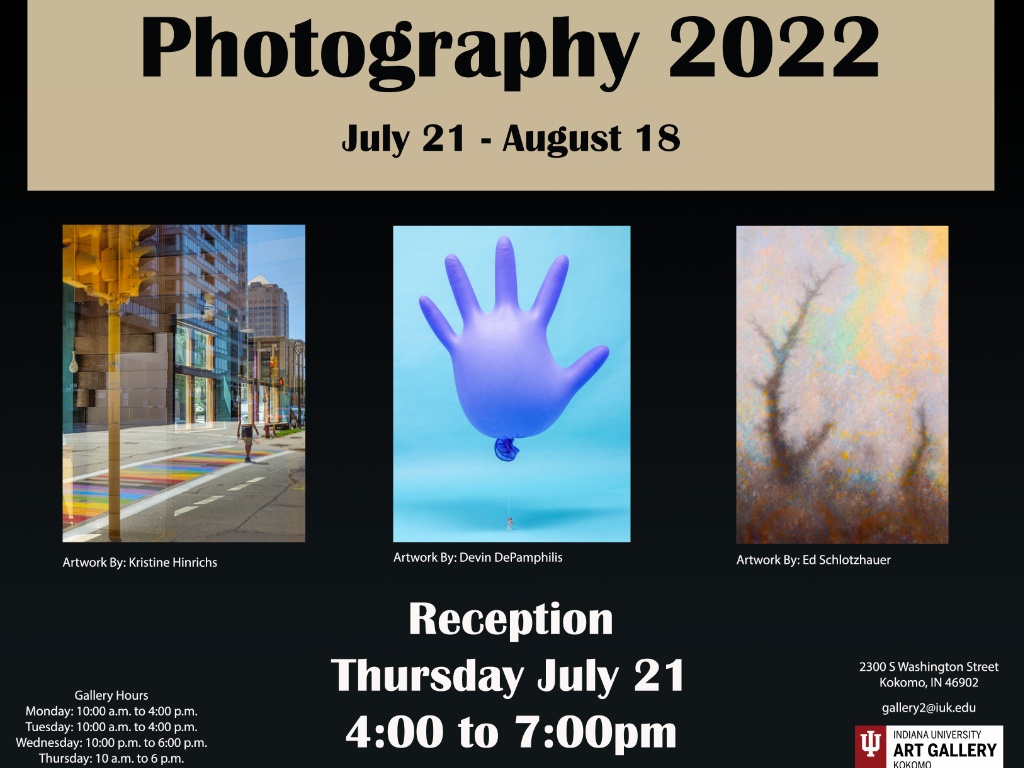 July, August 2022
Photography is a powerful medium. Artists from across the U.S. showed how they express themselves through the photographic arts.
Biosphere Exhibition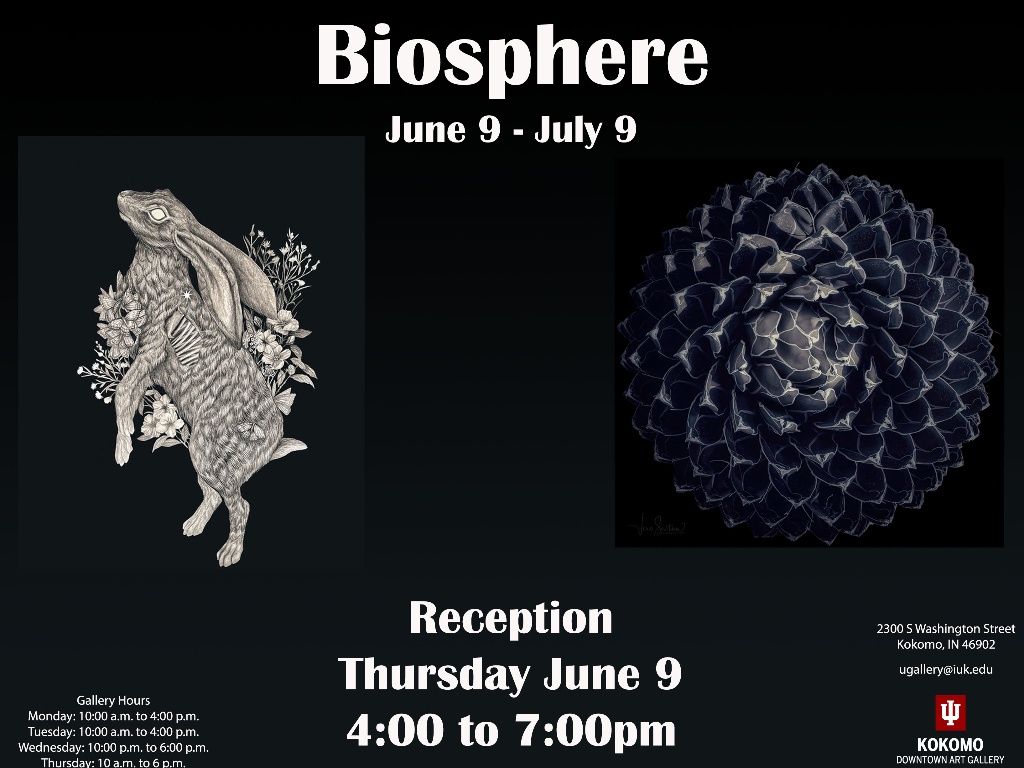 June, July 2022
The biosphere is where all life exists on earth. Artists were invited to share how they are inspired by our biosphere. From plants, animals, organisms, the interconnectedness, to the factors that threaten harm, we wanted to see all interpretations of this theme.
Rural Photography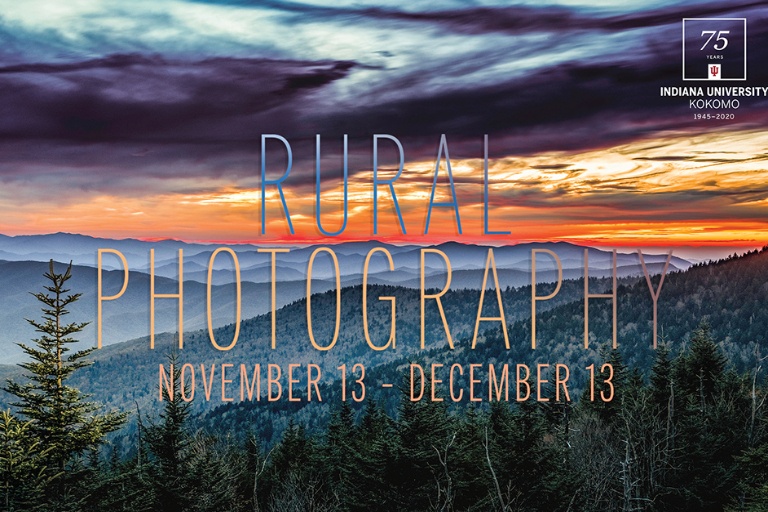 November, December 2019
Photography is an expression of yourself and surroundings, we take pictures to create memories. Rural relates to the countryside rather than in town. This exhibit will feature photographs from artist all around the country. We live in a beautiful world, and we want to share that in our gallery.
75 Years In Pictures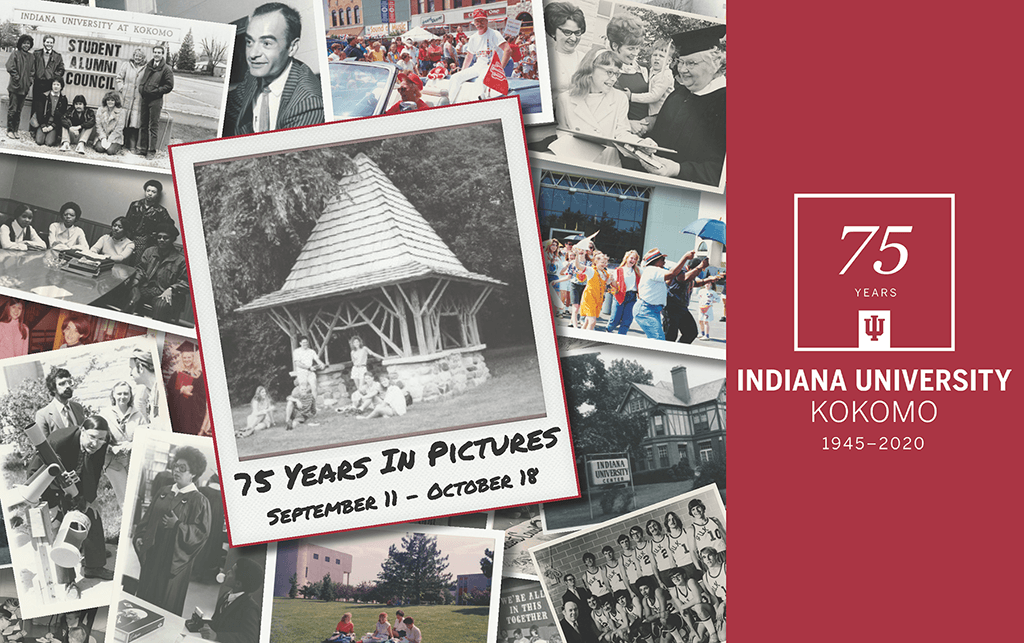 September, October 2019
Dig into the archives and take a step back in time as you experience the history of Indiana University Kokomo. The special exhibition, 75 Years in Pictures, is a photographic trip through time the people, places, and things that have made IU Kokomo what it is today.
24th Annual High School Exhibition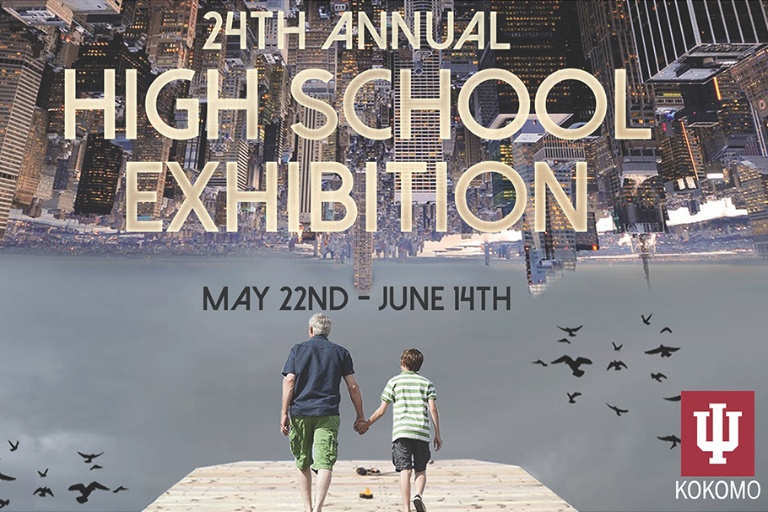 May, June 2019
Juniors and Seniors from high schools within our region will have their works on display in a variety of mediums.
Student Exhibition 2019
March, April 2019
Join us in the Art Gallery to view the work created by our students this academic year. There are several different levels of work that showcase various mediums such as paintings, drawings, sculpture, jewelry, metalwork, ceramics, digital, mixed media, and graphic design. Opening reception Wednesday, March 27, 2019 4-7 p.m. As always, free and open to the public.
Perturbation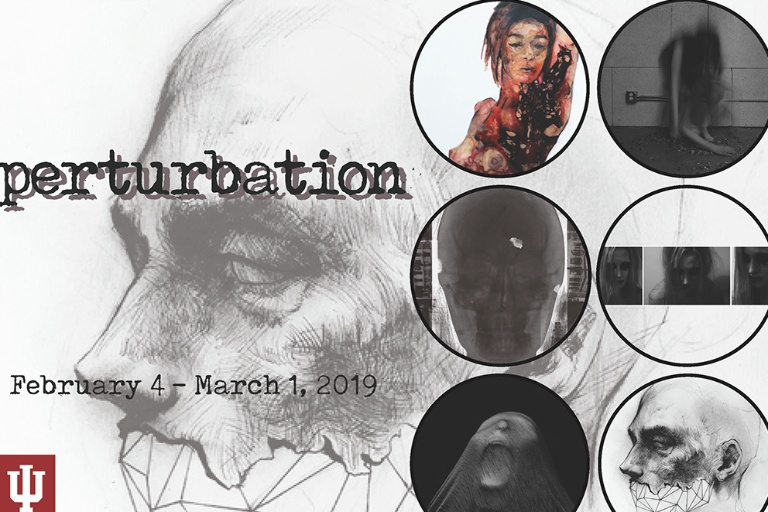 February, March 2019
Perturbation comes from the old French word "perturbacion" meaning disturbing, distressing, or a state of anxiety and mental uneasiness. This juried exhibition will showcase art that represents this word. Works can include themes of gothic, macabre, horror, and mental health, but we are open to all literal and symbolic interpretations related to perturbation. The goal of the exhibition is to create a unique and unsettling gallery experience.
The Art of Alzheimer's Disease: Art Therapy Gives Rise to Social Belonging & Self-Esteem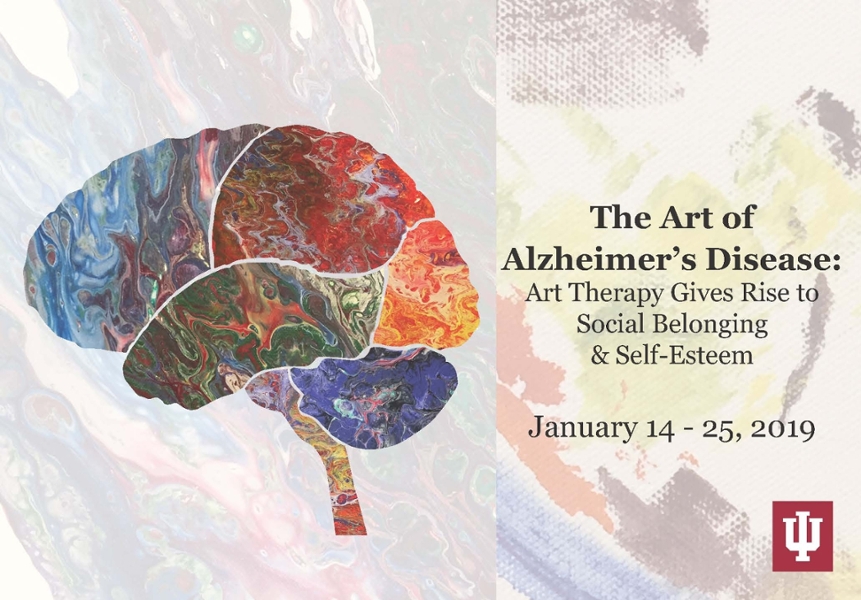 January 2019
An estimated 5.7 million Americans live with Alzheimer's disease, an irreversible degeneration of the brain causing disruptions in memory, language and more. This exhibit features individual and group works created in a 6-week art therapy group led by IU Kokomo faculty Brooke Komar. The pieces show the impact of the disease.