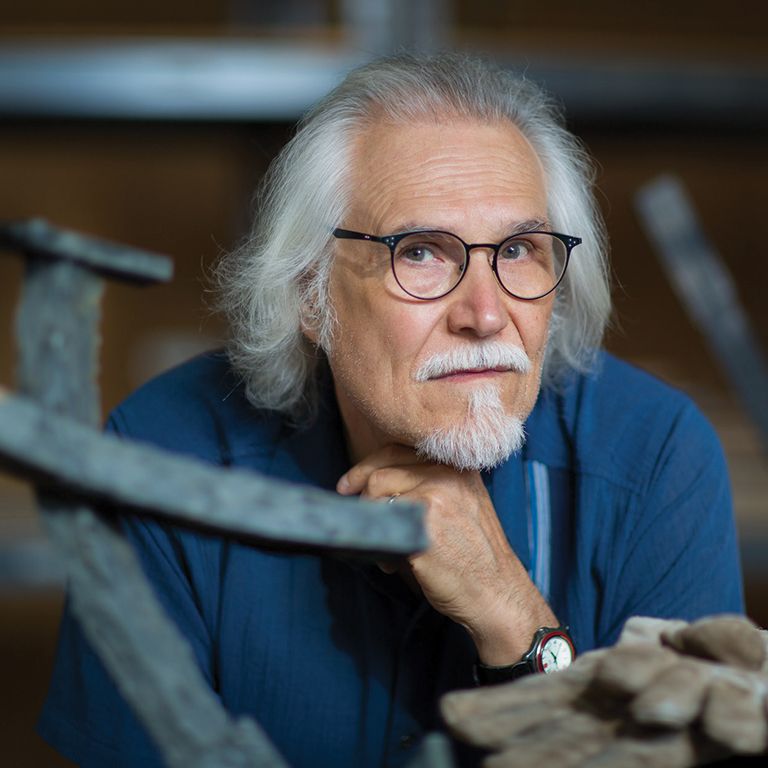 Phone:

765-455-9585

Email:

gsteel@iu.edu
Campus:

IU Kokomo
Main Building, KO 226

Biography
Gregory Steel was born in Detroit and raised by his maternal grandparents in the richly diverse neighborhoods of the Motor City's East Side. From an early age, Steel was encouraged by his grandmother's innovative use of ordinary materials in constructing unique objects and arrangements. Her novel approaches to environmental resources combined with her support were a positive influence in Steel's artistic development. As a self-taught artist, Steel held jobs in various disciplines in order to support his work, but after many years of making art on his own, he realized he needed a serious arts education.
Attending school part-time and working full-time, Steel received a BFA from The College for Creative Studies in Detroit, and an MFA in New Genres from the University of Michigan. After his studies were completed he took a position at The College for Creative Studies teaching sculpture and experimental media. Steel is currently an Assistant Professor of Fine Arts & New Media at Indiana University Kokomo. The art of ideas is fundamental to Steel's working process and is at the heart of his work to date. For Steel, art and life are not separate spheres. Instead, his art is only of extension of whom he is, and thus is fully integrated into his life. Navigating academic discourse and the Modernist dilemma, Steel soon came to depend on his instinct that art is an internal process. His influences include Marcel Duchamp, Joseph Beuys, Lawrence Weiner and Allan Kaprow. Experience, rather than individual created objects, is foremost in Steel's work. To this end, Steel employs a variety of materials and techniques in his art, including video, object making, digital imaging, book publishing, installation, performance and new technology.
A brush with cancer in 1998 affected his work in many ways that give him a greater focus and sense of urgency to complete his life's work. As an idea artist, he views the various materials he uses as simply a way to fulfill the function of the art. Through this diversity, he resists easy categorization. Steel's work cannot be pigeonholed because it is integrated with his life, and as such, it is a richly layered and evolving experience. His concerns about issues of the human condition and social change and his hope for humankind are evident regardless of his final product. Whether Steel is collaborating in a groundbreaking physiological monitoring system with Cybernet Systems of Ann Arbor or creating intimate and humorous tableaus replete with miniature figures in outlandish settings, his art emerges as thoughtful and timely. Steel's work has been exhibited across the United States and Europe, most recently in China, Russia, London, and in Barcelona, Spain.
Biography of Gregory Steel By Sarah Evilsizor
Gregory Steel is currently working on his Ph.D. in philosophy, his dissertation is "The Sublime as Nexus of Faith and Reason"
Ph.D. Candidate, Institute for Doctoral Studies in the Visual Arts
Professional Works
Most recent show of work
New York Now | May 9-21, 2014
Art Basel, Switzerland | June 19-22, 2014 | About Art Basel
Teaching
Courses Taught:
Philosophy of Art
Concepts and Images
Digital Media Studio I & II
Video & Video Art
Sculpture
Photography & Videography