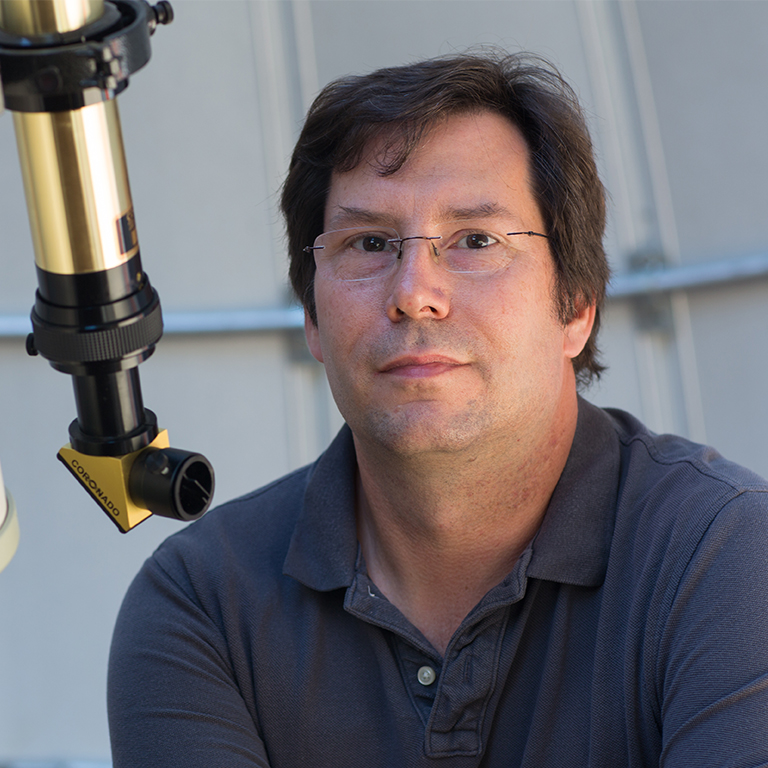 Phone:

765-455-9305

Email:

pmotl@iuk.edu
Campus:

IU Kokomo
Hunt Hall (SM), Room 105D

Biography
IU Kokomo Observatory: We have public nights at the observatory on the second Sunday of the month during the academic year.
Education
Doctorate of Philosophy in Physics — December 2001 Advisers: Dr. Juhan Frank and Dr. Joel E. Tohline Louisiana State University and A&M College, Baton Rouge, Louisiana
Bachelors of Science in Physics (Departmental Honors) — August 1993 Indiana University, Bloomington, Indiana
Awards
IU Kokomo Faculty Research Award 2012
Professional Development
New Faculty Workshop for Physics and Astronomy
sponsored by AAPT, November 2008
Faculty Learning Community on Clickers
sponsored by IU Kokomo Center for Teaching, Learning and Assessment 2010
PKAL Summer Leadership Institute for Early Career Faculty
sponsored by Project Kaleidoscope, July 2010
Service
Journal Referee
Review Panels for NASA and NSF
Director of IU Kokomo Observatory
Public Speaking and Outreach
Science Rocks Summer Camp for Underrepresented Middle School Students
Judge for Science Fairs
Committee Work:

Institutional Animal Care and Use Committee (2008 - present)
Search Committees in Biology, Geology, Chemistry and Informatics
Research
Research Interests:
I study compact objects through numerical simulations. Compact objects are small, dense stellar remnants that if left on their own would be nearly invisible due to their small size In many cases, however, these dead stars reveal themselves through interactions with their environment - often times though interacting with a partner star in a binary system.
Merger of two neutron stars
Merger of two identical neutron stars. Vectors show magnetic field with amplitude in Gauss.
Neutron star black hole merger
Tidally disrupted neutron star accreting into a black hole. The apparent horizon for the black hole is shown in black (duh) and magnetic field lines in the neutron star material are shown as stream lines.
double white dwarf merger
Temperature shown in color on a surface of constant density from a simulation of the merger of two white dwarf stars. The temperature is in Kelvin.
Professional Works
Carlos Palenzuela, Luis Lehner, Marcelo Ponce, Steven L. Liebling, Matthew Anderson, David Neilsen & Patrick M. Motl 2013 "Gravitational and electromagnetic outputs from binary neutron star mergers", submitted, arXiv
Jan E. Staff, Athira Menon, Falk Herwig, Wesley Even, Chris L. Fryer, Patrick M. Motl, Tom Geballe, Marco Pignatari, Geoffrey C. Clayton & Joel E. Tohline 2012, "Do R Coronae Borealis Stars Form from Double White Dwarf Mergers?", The Astrophysical Journal, 757, p76, ADS, arXiv, ApJ
David Neilsen, Luis Lehner, Carlos Palenzuela, Eric W. Hirschmann, Steven L. Liebling, Patrick M. Motl & Travis Garrett 2011, "Boosting jet power in black hole spacetimes", The Proceedings of the National Academy of Sciences, 108, 12641, ADS, arXiv, PNAS
Sarvnipun Chawla, Matthew Anderson, Michael Besselman, Luis Lehner, Steven L. Liebling, Patrick M. Motl & David Neilsen 2010, "Mergers of Magnetized Neutron Stars with Spinning Black Holes: Disruption, Accretion and Fallback", Physical Review Letters, 105, 111101, ADS, arXiv, PRL
Migel Megevand, Matthew Anderson, Juhan Frank, Eric W. Hirschmann, Luis Lehner, Steven L. Liebling, Patrick M. Motl & David Neilsen 2009, "Perturbed disks get shocked: Binary black hole merger effects on accretion disks", Physical Review D, 80, 024012, ADS, arXiv, PRD
Tesla E. Jeltema, Eric J. Hallman, Jack O. Burns & Patrick M. Motl 2008, "Cluster Structure in Cosmological Simulations I: Correlation to Observables, Mass Estiamtes and Evolution", The Astrophysical Journal, 681, p167, ADS, arXiv, ApJ
Matthew Anderson, Eric W. Hirchmann, Luis Lehner, Steven L. Liebling, Patrick M. Motl, David Neilsen, Carlos Palenzuela & Joel E. Tohline 2008, "Magnetized Neutorn-Star Mergers and Gravitational-Wave Signals", Physical Review Letters, 100, 191101, ADS, arXiv, PRL
Jack O. Burns, Eric J. Hallman, Nrennan Ganter, Patrick M. Motl & Michael L Norman 2008, "Why Do Only Some Galaxy Clusters Have Cool Cores?", The Astrophysical Journal, 675, p1125, ADS, arXiv, ApJ
Matthew Anderson, Eric W. Hirschmann, Luis Lehner, Steven L. Liebling, Patrick M. Motl, David Neilsen, Carlos Palenzuela & Joel E. Tohline 2008, "Simulating binary neutron stars: Dynamics and gravitational waves", Physical Review D, 77, 024006, ADS, arXiv, PRD
American Astronomical Society
American Physical Society
Astronomical Society of the Pacific American Association of Physics
Teachers Indiana Academy of Science
Assistant Professor of Physics, Indiana University Kokomo
Department of Science, Mathematics and Informatics, August 2008 – present
Postdoctoral Researcher in Astrophysics, mentor Dr. Joel E. Tohline
Department of Physics & Astronomy, LSU, July 2004 – July 2008
Postdoctoral Researcher in Astrophysics, mentor Dr. Jack O. Burns
CASA, University of Colorado, February 2002 – June 2004
Postdoctoral Researcher in Astrophysics, mentor Dr. Jack O. Burns
Department of Physics & Astronomy, University of Missouri, November 2000 – January 2002
Information Technology Consultant for High Performance Computing
Office of Computing Services, LSU, July 1999 – July 2000
Planetarium Coordinator
Department of Physics & Astronomy, LSU, June 1997 – June 1999
Teaching Assistant, developing Highland Road Park Observatory
Department of Physics & Astronomy, LSU, June 1997 – June 1998